The best gadget for your pocket – The Ridge wallet [2017 Tech Wallet]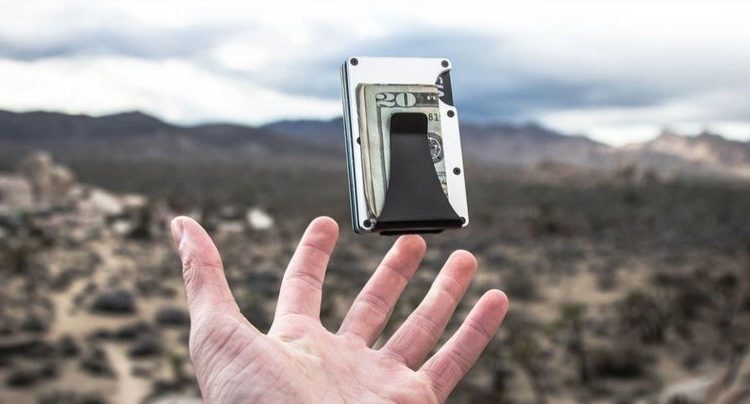 For all you fiddlers, tinkerers, and gadgeteers, I want you to know, I get it.
There isn't anything more satisfying than hunching over your desk and plugging away with a new toy, or dreaming up a few new tools for ourselves. Some of the greatest inventions were hatched from the basements of average humans.
I created The Ridge because I was fed up with the bulkiness of wallets. Let's be clear, I'm not comparing The Ridge to some of the more influential inventions of our time, but I will say it was a DIY attempt at solving what, at the time, was a very real problem—because most wallets are terrible.
Let's all remind ourselves of those bulky leather billfolds that line the pockets of men all over the world. They're large, inefficient, and so ergonomically unsound that they've been known to cause back problems. The shortcomings of traditional wallets is so widespread, people don't even seem to notice. Men everyone have become so comfortable with that cash carrier that they don't know what they're missing.
So I approached this a little different: I just got rid of everything. I dumped the entire contents of my wallet, grabbed a rubber band, and said "I'm only taking what I need. And, a few years later, The Ridge fills the pockets of over 200,000 men all over the world.

So why do I think The Ridge wallet belongs on Desktop Gadgets?
On a fundamental level, I think The Ridge shares a lot of similarities with tech. Tech tools allow us to do things differently and the wallet isn't any different. The entire concept of the minimalist wallet undermines that of the traditional bifold. You have to carry less.
So while tech gadgets often let's us do more, having a slim wallet that makes you carry less can be beneficial in the same way. At the end of the day, you're doing things better.
And, like a lot of good tech, The Ridge was built to be modularized, able to change and adjust to serve the needs you define. From carrying one to twelve cards, to having the choice between a money clip or not, The Ridge can take many forms.

RFID-blocking
And finally, we're passionate about creating products that future proof against technology.
At the Schmoocon hacker conference in 2012, Kristin Paget used a $50 RFID reader to skim an audience member's credit card, encoded that information onto a blank card with a $300 dollar card-magnetizing, and used Square's iPhone attachment to pay herself 15 dollars.
Moral of the story? You're better safe than sorry.
The tricky thing about data security is that it doesn't seem like you need it until it's too late. Even as credit card companies implement one-time transaction codes or the European-style chip-and-PIN system (we also think it's annoying), taking the precautionary steps is a great way to cover your bases.
The Ridge was built with the future in mind—data-safe and looking great.

Author: Daniel Kane
Author url: https://www.ridgewallet.com
Author description: Daniel Kane and his father founded The Ridge back in 2013. 4 years and 200k wallets later, they've helped revolutionize men's everyday carry all over the world.