Benfei USB-C Hub: 7-in-1 Multiport Adapter for MacBook Pro & More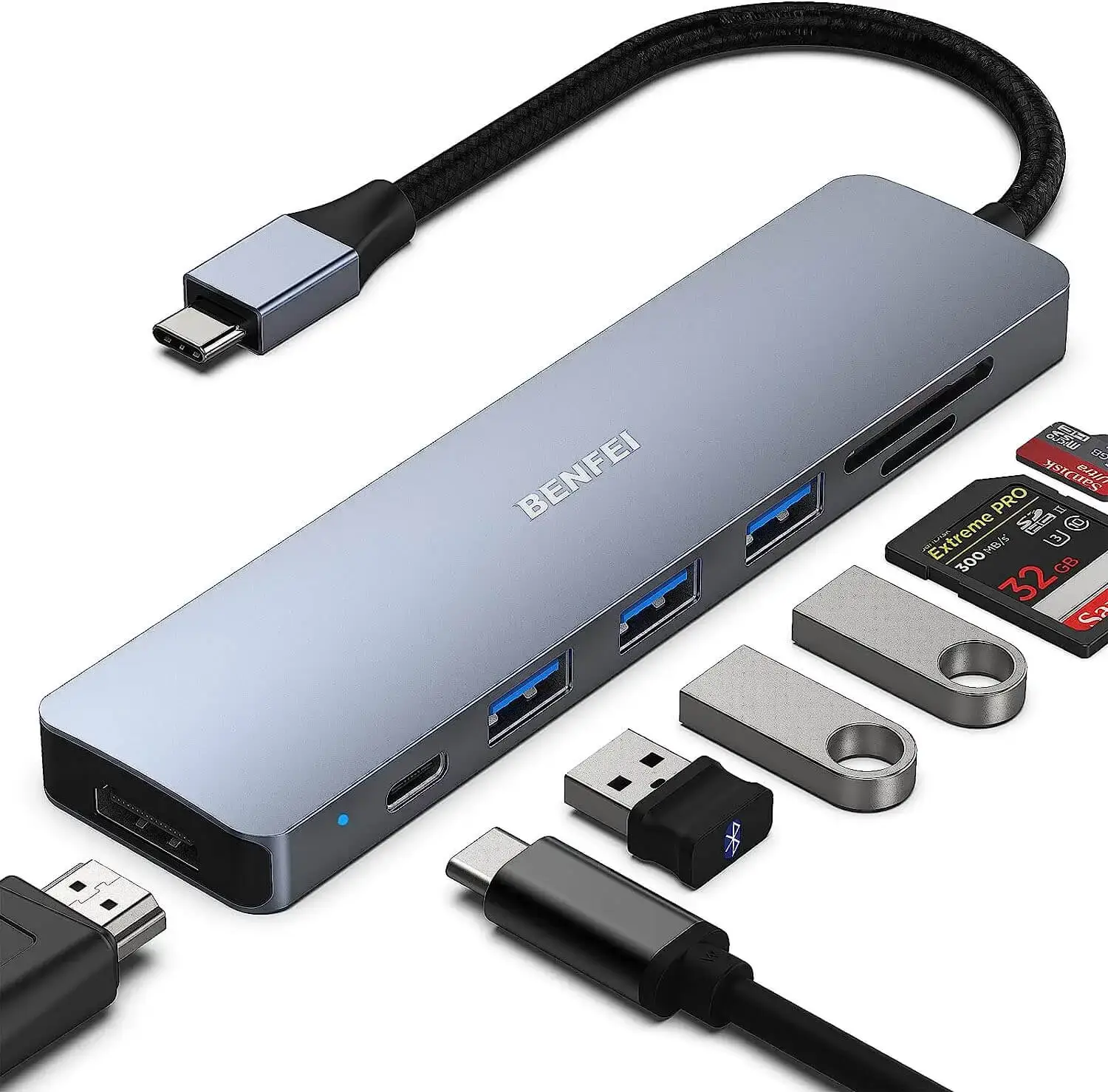 In this fast-paced digital era, the need for connectivity and versatility has become more crucial than ever. As laptops continue to slim down, the number of available ports has reduced, leaving users in search of solutions to connect various peripherals seamlessly. The Benfei USB-C Hub 7-in-1 is the perfect answer to this conundrum, offering instant expansion and incredible performance for your USB-C laptop in a sleek and compact design.
Instant Expansion for Enhanced Productivity
With the Benfei USB-C Hub, you can instantly expand your laptop's capabilities with a single USB-C port. This hub features an impressive array of ports, including 1 HDMI port, 3 USB 3.0 ports, 1 micro SD card slot, 1 SD card slot, and 1 60W Power Delivery port. Whether you're a business professional needing to do a presentation with a projector or a creative seeking to extend your desktop screen to a monitor or TV, this hub has got you covered.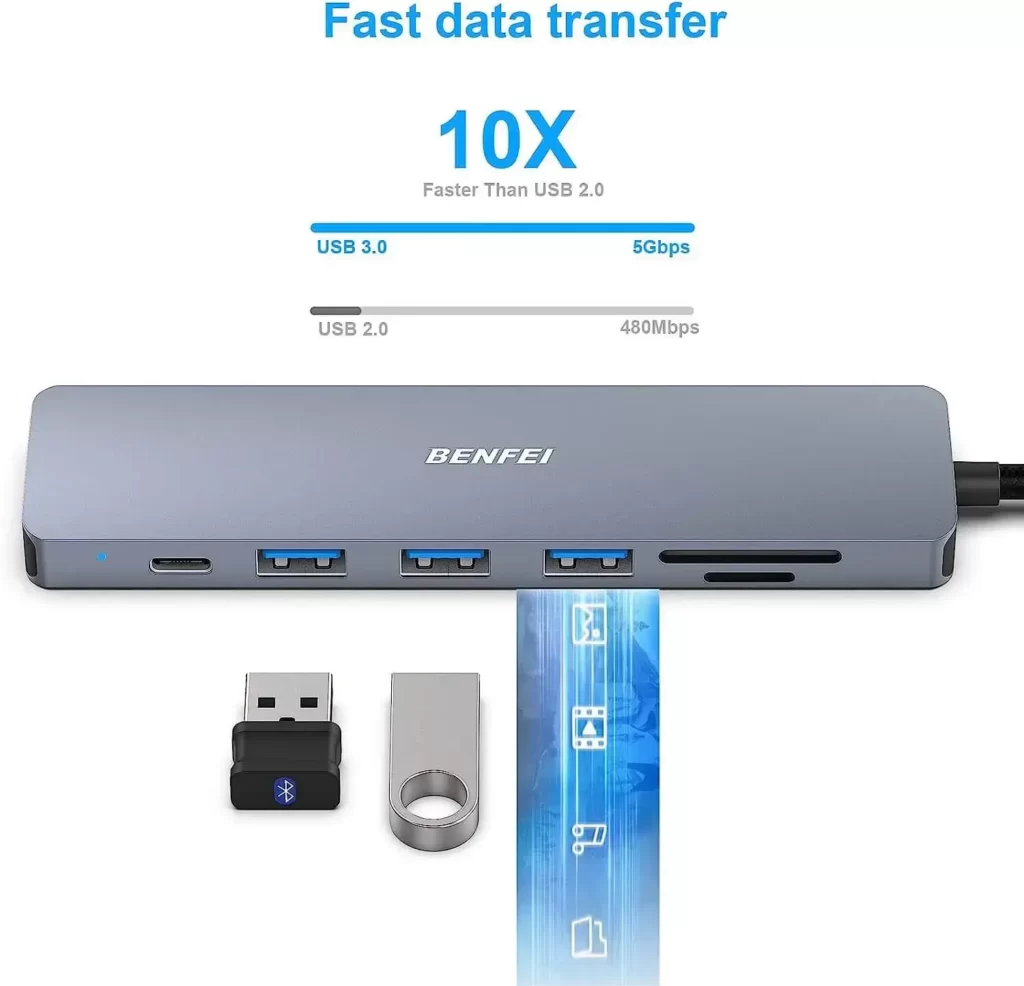 Incredible Performance at Your Fingertips
Experience lightning-fast data transfer and backup speeds of up to 5Gbps with the three USB 3.0 ports. The hub also comes equipped with an SD/TF card reader for quick and easy access to your photos and other media files. Moreover, the 60W Power Delivery port ensures that your laptop stays charged even during heavy usage.
Additionally, the HDMI output slot allows you to stream high-quality content from your USB Type-C or Thunderbolt 3 device to an external display. Enjoy stunning resolutions of up to 3840*2160@30Hz, and 1920×1080@60Hz (1080p Full HD), including 720p, 1600×1200, and 1280×1024, providing a seamless viewing experience on high-definition monitors or projectors.
Stability and Reliability
The Benfei USB-C Hub boasts superior stability, thanks to its built-in advanced and integrated IC chip. This ensures consistent and reliable performance during data transfers and connectivity. The premium aluminum alloy casing further enhances the hub's durability and heat insulation, providing peace of mind during extended use.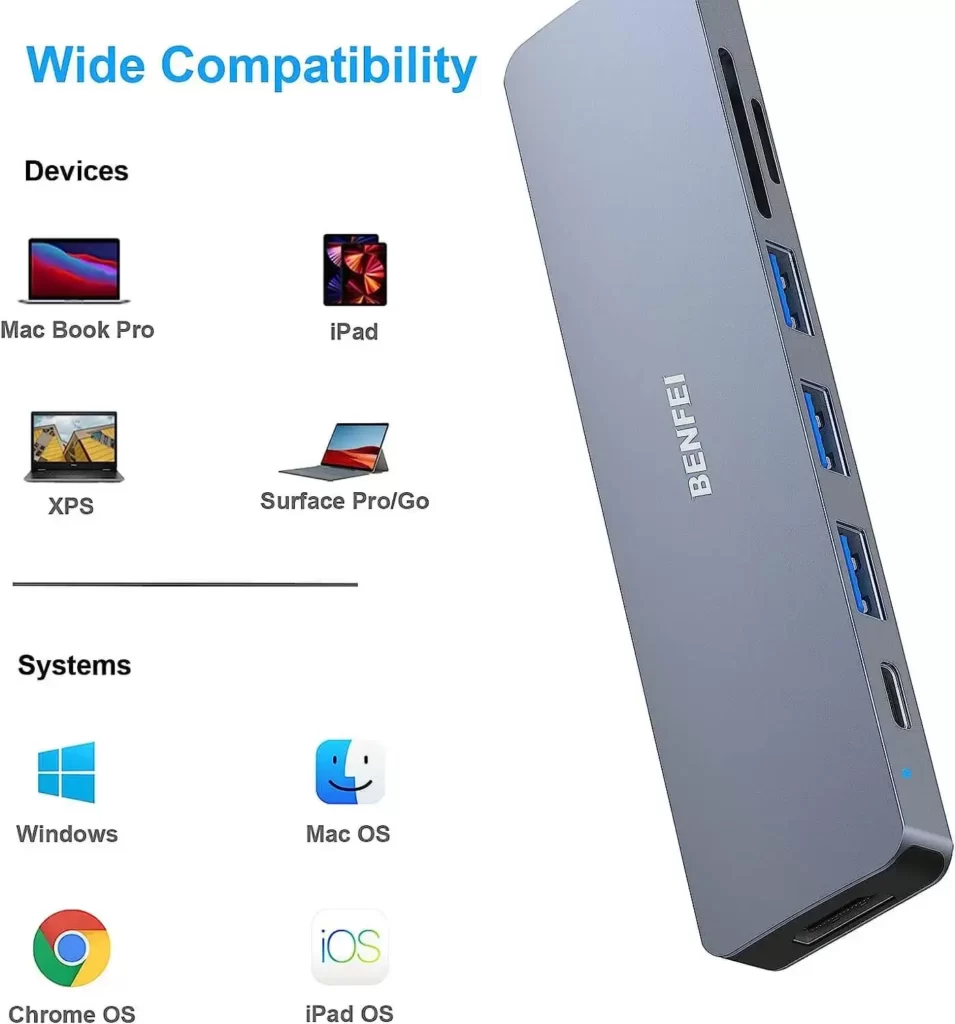 Wide Compatibility for Universal Connectivity
Designed to cater to a wide range of users, this hub is compatible with various devices, including 2022/2021/2020/2019 MacBook Pro, iMac, MacBook, Surface Book 2, Surface Go, HP Envy 13, Pixelbook, Galaxy Book, Samsung Galaxy S8/S9/S8 Plus/S9 Plus/Note 8/Note 9, Dell XPS 15/XPS 13, Chromebook, Chromebook Pixel, Intel NUC, and many others. The detailed product description provides a comprehensive list of compatible devices.
Benfei's Commitment to Quality
To ensure your utmost satisfaction and confidence in their product, Benfei offers an exclusive unconditional 18-month warranty. Their friendly and easy-to-reach customer service is always available to address any queries or issues promptly.
In conclusion, the Benfei USB-C Hub 7-in-1 stands out as an essential accessory for modern laptop users seeking instant expansion, incredible performance, and wide compatibility. Its sleek design and exceptional functionality make it a valuable addition to any professional or creative setup. With this hub in your bag or pocket, you can confidently connect and enhance your digital experience wherever you go.
POSITIVES
Quality of material

Value for money

For traveling

Versatility