introducing "Wekey Pocket" the world thinnest keyboard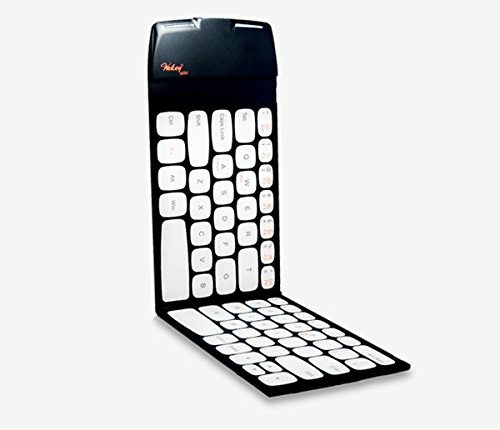 Wekey Pocket is the thinnest and lightest foldable keyboard in the world. While existing foldable keyboards are over .39 in. thick when folded, Wekey Pocket has a thickness of under .24 in. That is slim enough to carry around in your pocket.Typing is intuitive with a key layout designed to nearly mirror the standard PC keyboard. Compatible with tablet or smartphone, meet the gold standard for portability in the keyboard world: Wekey Pocket!
Extremely Portable: With its foldable design, Wekey Pocket is incredibly compact when folded measuring around 6 inches. However, when opened it is over 12 inches making it over 80% the length of a standard keyboard allowing for ample key space. With a thickness of under .24 inches and a weight of 3.5 oz., Wekey Pocket is meant to be carried around whether it be in your pocket, bag or purse.
Intuitive Layout: With a QWERTY layout, Wekey Pocket will feel nearly identical to typing on a standard PC keyboard. Designed to fold out at a lengthy 12 inches, there is ample space between keys to avoid your fingers from feeling cramped together.
Typing Feel: Wekey Pocket emits a familiar clicking sound to keep your typing experience as similar as possible. While keeping Wekey Pocket incredibly flat, we also took into consideration button feel to provide feedback to your fingers.
Powerful Battery: Wekey Pocket has a powerful Li Po 200mA battery that allows for months of use without recharging. With a full charge, Wekey Pocket can be used for over 2 months when used for an average of 2 hours per day.
Water Resistant: Wekey Pocket is water resistant to withstand against coffee or water spills. Use Wekey Pocket worry free against such common accidents.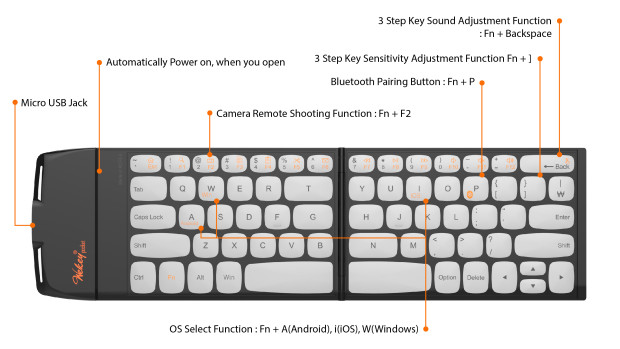 Special Keys: Wekey Pocket is equipped with special keys to be uniquely compatible with your mobile devices. Find a list of a few of these special keys below:
Camera (Selfie): Fn + F2
Home: Fn + Esc
Mail: Fn + F6
Video & Music Controls: Fn + F7 (Rewind), Fn +F8 (Play/Stop), Fn + F9 (Forward)
Connect Bluetooth: Fn + P
OS Selection: Fn + A (Android), I (iOS), W (Windows)