LED Desk Lamp, YOTUTUN Swing Arm
Product is rated as #2 in category Lamps
| | |
| --- | --- |
| Easy to use | 9.5 |
| Range of motion | 10 |
| Brightness | 9.4 |
| Sturdiness | 9.3 |
YOTUTUN Swing Arm Table Lamp with Clamp, Flexible Gooseneck Task Lamp, Eye-Caring Architect Desk Light, 3 Modes 10 Brightness Levels, Memory Function Desk Lamps for Home Office, 12W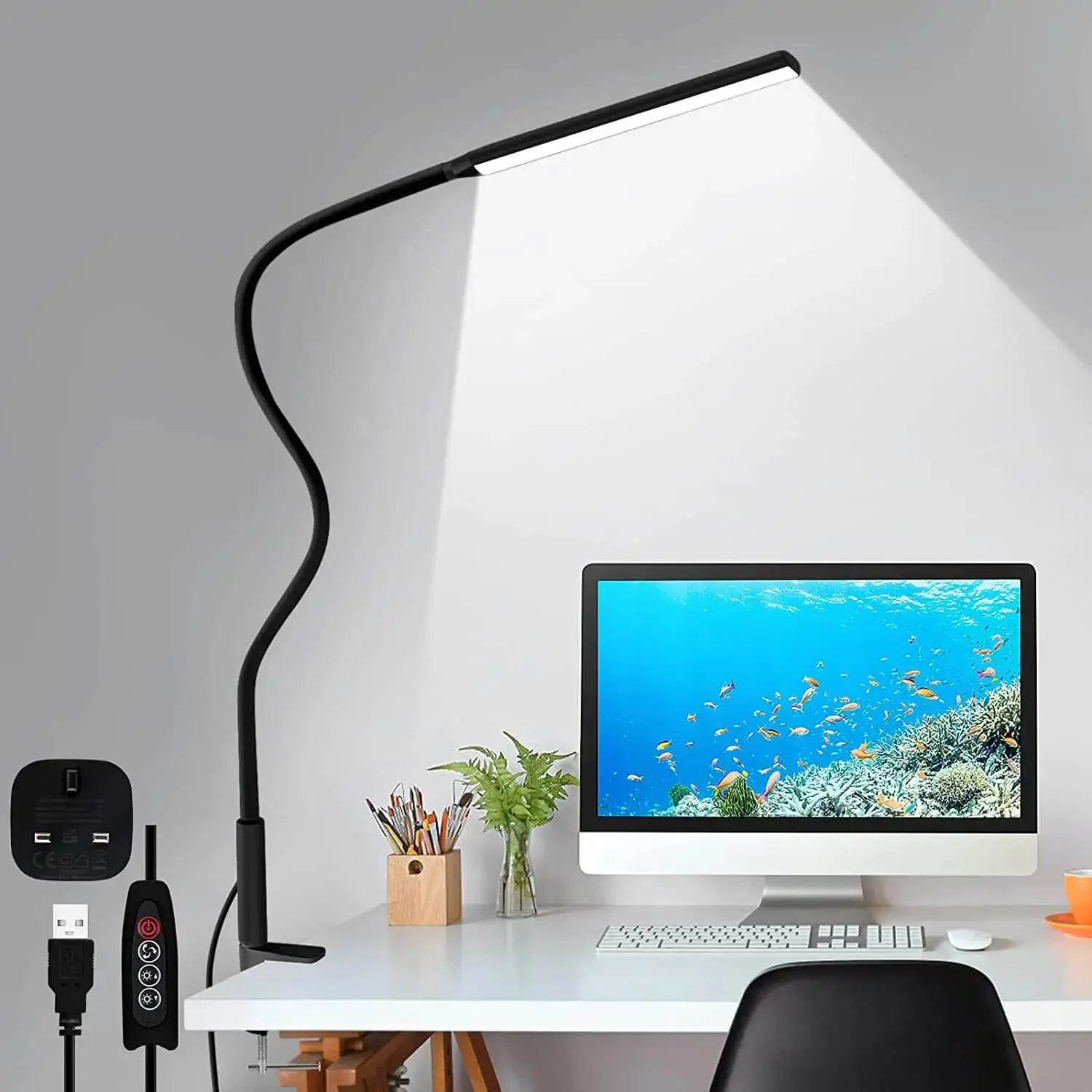 LED Desk Lamp, YOTUTUN Swing Arm
Description
There are three color settings for the "Stepless Dimming and Sensitive Button Control" LED lamp: warm light (3000K), warm white light (4000K), and white light (6000K). There are 10 brightness dimmer levels for each lighting mode. Therefore, there are 30 illumination options to accommodate all of your needs. Unlike touch-sensitive desk lighting, this architect's lamp is controlled by a button switch, which is more robust.
Memory and Eye Protection Function Our clamp light has uniform brightness, no glare, no ghosts, and gentle light, all of which can help to protect eyesight and lessen eye strain. It is made of 64 lamp beads. It is perfect for working, studying, stitching, and reading. The desk lamp makes a great present for children and book lovers. This study lamp's memory feature allows it to remember the brightness and mode that were last used.
Gooseneck with Space Saving and Flexibility With a strong metal clamp, this task light can hold a tabletop up to 2 inches thick. It firmly supports the swing arm lamp in its position. A silicone pad is also included with the clamp lamp to protect the table from scratches. Flexible gooseneck table lamp that can be rotated 360 degrees to produce multidirectional lighting. The folding gooseneck light takes up less space than a standing desk lamp and is easy to transport.
Yotutun LED Desk Lamp, English instructions, 5V 2A power connector, metal clamp, lifetime guarantee, and response from customer service within 24 hours are included in the "What You Get" list.
YOTUTUN Swing Arm Table Lamp with Clamp, Flexible Gooseneck Task Lamp, Eye-Caring Architect Desk Light, 3 Modes 10 Brightness Levels, Memory Function Desk Lamps for Home Office, 12W
Additional information
Specification:
LED Desk Lamp, YOTUTUN Swing Arm
| | |
| --- | --- |
| Style | English |
| Brand | yotutun |
| Color | Black |
| Product Dimensions | 2"D x 14.2"W x 5.1"H |
| Special Feature | dimmable |
| Light Source Type | LED |